Kids' Probiotics Benefits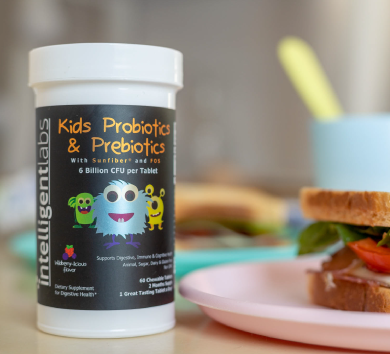 It's important to get gut health right early in life to help prevent chronic health problems later on, including obesity and diabetes.
Probiotics may help with common GI issues like diarrhea and tummy pain.
Probiotics can boost your child's immune function and help them fight off infections, so they can grow strong and healthy.
These live cultures can also delay the onset of glucose intolerance and increase insulin sensitivity.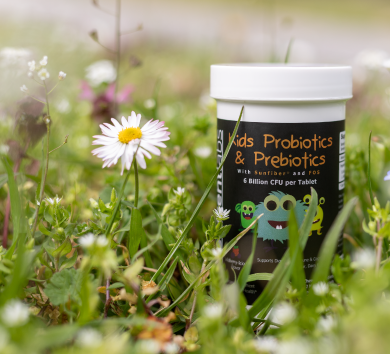 The gut microbiome has a connection with both the skin and brain. A healthy gut can influence a range of skin conditions, including Rosacea, Eczema, and Acne.
Probiotics can also have a positive effect on a range of mood disorders.

Patented Probiotic Strains
Our specially selected probiotics are chosen for their stability and unique health-giving properties.

Guaranteed 6 Billion CFU
We don't just manufacture at 6 Billion CFU, we guarantee our tablets will stay at this strength until expiry!

Quality Control
This dietary supplement is manufactured at an NSF GMP-certified facility in the United States.

Money Back Guarantee
Love It or 100% Money Back Guarantee. If you don't love our product, simply return it for a full refund.
Why Choose Intelligent Labs Probiotics For Your Child?
Giving your kid our wildberry-licious probiotics means a healthy gut and a happy child! This is because the gut microbiota influences basically every aspect of our health – from our intestines all the way up to our brain.*
Our Kids' Probiotics with Prebiotics can help your child grow strong and healthy. Each chewable tablet contains at least 6 Billion CFU of:
+ B. lactis
+ L. acidophilus
This product is formulated to support your child's digestive and immune health, and promote cognitive development.* It's perfect for children of all ages!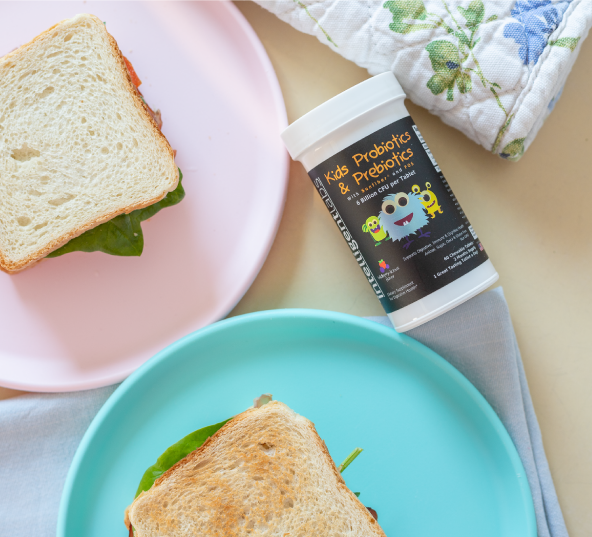 Acid and Bile Resistant Strains
Probiotics are exposed to acid and bile as they go through the digestive system on their journey to reach the large intestine. Both acid and bile can kill off probiotics.
We specifically use strains that can survive these harsh conditions to ensure all our probiotics reach your child's gut alive, where they can begin to do their good work.
Synbiotic Effect of Prebiotics
Each Intelligent Labs Kids' Probiotics tablet contains the prebiotics Sunfiber® and FOS. Prebiotics are non-digestible fibers that act as food for probiotics.
Probiotics are manufactured in a freeze-dried state. However, even the slightest exposure to light, heat, moisture or air can wake them up.
When they wake, they will need a food source, else they will die. It's therefore vital to choose a probiotic brand that includes prebiotics.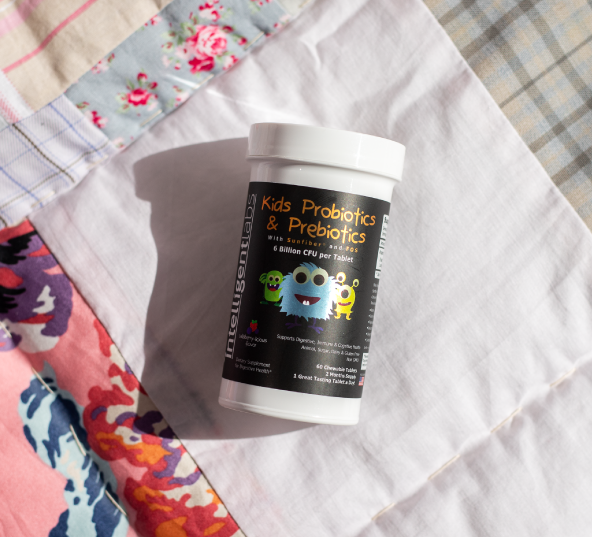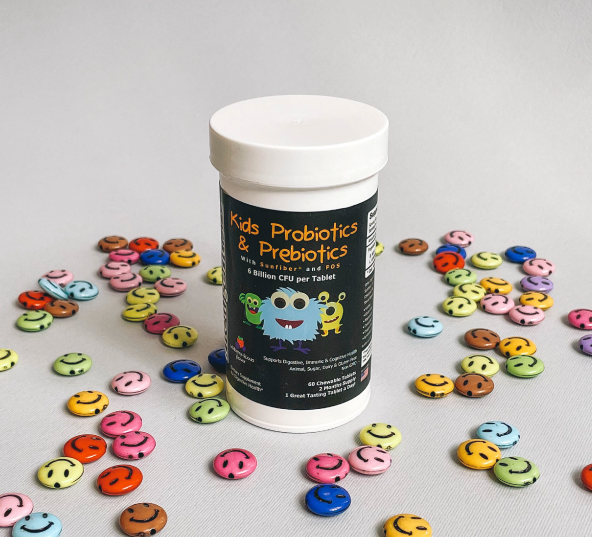 Active Packaging Technology
We control the exposure of our probiotics to moisture and water by using a uniquely engineered Activ-Polymer™ bottle. It features an impenetrable desiccant sleeve wrapped around the probiotic so they remain moisture-free.
We also use an Oxyfree® desiccant to absorb any oxygen and remove any residual moisture from inside the bottle, meaning we can reduce oxygen levels to 0.01% for the entire lifespan of the product.
At Intelligent Labs, we use high-quality ingredients to make the best children's probiotic supplement on the market! We don't use fillers, artificial flavors, additives or preservatives on any of our health products. Our Kids' Probiotics with Prebiotics is manufactured at an NSF GMP-certified facility in the United States. Our third-party testing certificates are also available for all our customers to see.












NO CHEMICAL PRESERVATIVES
Serving size: 1 chewable tablet
Servings per Container: 60
Ingredients per serving: Proprietary Blend of B. lactis and L. acidophilus (6 Billion CFU per serving*)
Other ingredients: Xylitol, Fructooligosaccharides (FOS), Sunfiber® (Guar Fiber), Natural Flavors, Microcrystalline Cellulose (Plant Fiber), Stearic Acid, Silicon Dioxide, and Stevia Rebaudioside-A.
THIS PRODUCT IS: Kosher, Gluten Free, Magnesium stearate free, Desiccant lined, Oxygen destroyer (removes oxygen during storage), Symbiotic effect by combining Prebiotics with Probiotics
CAUTION: Consult your physician if you are taking medications, or have any medical condition.
Keep out of reach of children. Do not use if seal is damaged or missing. Please do not eat the enclosed packet. Store in a cool and dry place. Avoid excessive heat. Tighten cap when not in use.
FREQUENTLY ASKED
QUESTIONS
When is the best time for my child/children to take their probiotics?
They can take them at any time, however, we generally recommend taking them with a meal, ideally breakfast in the morning. The reason is food will lower the acidity of the stomach, (i.e raise stomach pH), so it is more beneficial for the bacteria. Although our probiotic strains are specifically selected for resistance to stomach acids, every little bit helps.
Where is the best place to store the kids' probiotics?
Our probiotics have specifically selected strains, so they don't need to be refrigerated. However, we recommend storing them in a cool dry place.
Will my child experience gas, bloating, or diarrhea?
A little gas or bloating is the most common side effect when taking probiotics in both adults and children. If it does happen, it will normally happen in the first few days after they start taking the probiotic. It's important to understand that this is the body's natural response, and it's actually nothing to worry about and usually passes in a few days.
The reason it occurs is because the gut bacteria is rebalancing itself. Probiotic bacteria are active against yeast, harmful bacteria and fungi, and when they take probiotics, harmful microorganisms will start to die. This is what can cause these issues to temporarily increase. It's actually a sign that the beneficial bacteria are getting to work and helping their gut!
My child is on antibiotics, can they take probiotics?
Yes, your child can take probiotics with antibiotics, studies suggest it's favorable to do so, and helps them to recover more quickly after they finish the course of antibiotics. However, we recommend that you make sure they take their probiotics and antibiotics at least 2 hours apart to reduce the possibility of the antibiotic killing the probiotic organisms.
Some probiotics supplements are cheap, whilst others are expensive. How do I know which supplement offers the best value for money?
The key is looking at the strength or Colony Forming Units (CFU). It's also important to understand how many of those CFU's will still be alive in the tablet by the time you take it. We over-manufacture our probiotics and use Active Packaging Technology and prebiotics to ensure the strength that is on the bottle is the strength you get in your gut.
Many other manufacturers will offer probiotics that will be significantly less powerful by the time you take them, than when they are manufactured.
Are these peanut and tree-nut free?
Yes, our Kids' Probiotics with Prebiotics supplement are peanut and tree-nut free.
Is this in gummy form?
No, this is in chewable tablet form, not gummy.
What age range of kids is this product for?
Toddlers around 2-3 years old who already know how to chew can start taking this probiotic. If they struggle chewing, crush up the tablet and mix into milk, water, or juice.
Can teenagers still take these?
We recommend up to puberty age for the Kids' Probiotic, so around age 13-14 (varies by child though). As they go through puberty, their gut microbiome also changes. They should then be able to tolerate Adult Probiotics which have a higher number of CFU's (50 Billion CFU to be exact).
Is there sugar or fat in it?
No, there is no sugar or fat in our Kids' Probiotics with Prebiotics supplement.

These statements have not been evaluated by the Food and Drug Administration. This product is not intended to diagnose, treat, cure, or prevent any disease.